Mouse Logitech Wireless MX Master, Black
Кат. номер: 3102231
Забележка:
ask
В момента продуктът не е наличен.
Основни параметри:
Производител:

Logitech

Предназнaчение:

Стандартна

Механизъм:

Лазерна

Свързване:

Wireless, Bluetooth

Цвят:

Черна

Опаковка:

Retail
Как се поръчва | Начини за плащане | Доставка
Детайлна информация / Технически характеристики
Hand-sculpted comfort contour
The perfectly sculpted, hand crafted shape* of this comfort mouse supports your hand and wrist in a comfortable, natural position.

Experience fine-motion control and fluid experience with well-positioned buttons and wheels.
* Mouse mold manufactured from an original hand sculpted design.
Crafting the MX Master
Logitech, together with Design Partners, have mastered a unique hand-crafted technique to create a precision mouse that is ultimately comfortable and inviting.

The mouse model is skillfully sculpted and, after many iterations, honed to fit perfectly in your hand.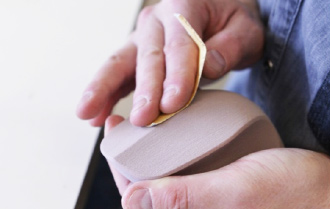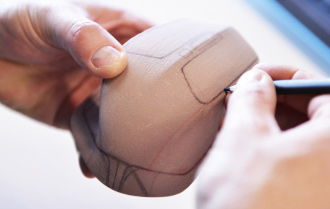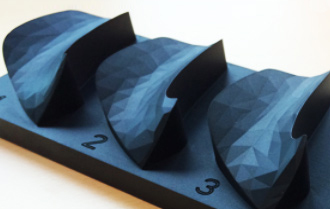 The mouse's flowing shape is refined to perfection. Zones for materials and button and wheel placement are defined. The fine detail of every surface is tuned to create a delightful and unique finished product.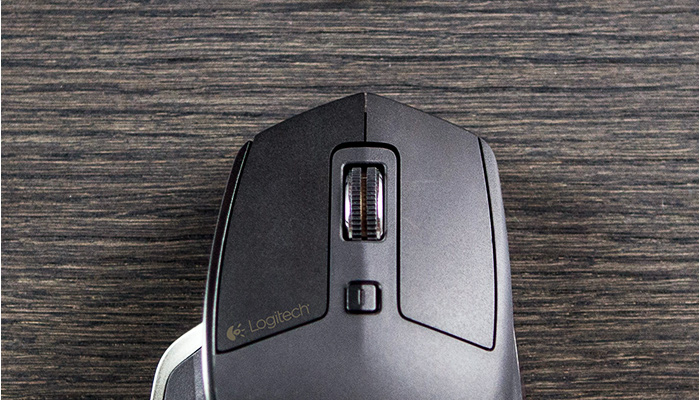 Speed-adaptive scroll wheel
Scroll through long documents or web pages faster and easier. The precision wheel auto-shifts from click-to-click to hyper-fast scroll. Logitech Options™ software lets you customize this experience.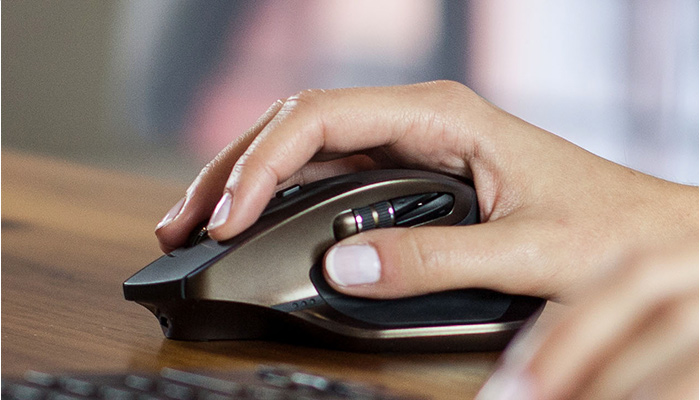 Unique thumb wheel
Experience side-to-side scrolling with a stroke of your thumb. To unlock the full range of thumb wheel possibilities, install Logitech Options™ software.
Turn pages, switch applications, reassign buttons, and much more using Logitech Options software.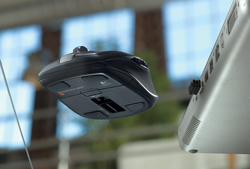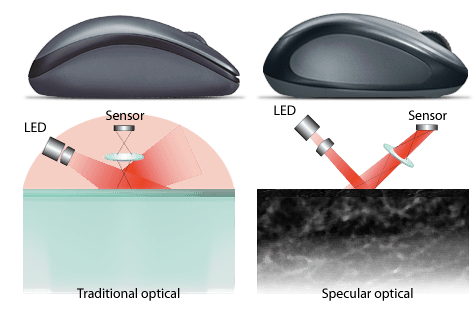 Darkfield Laser Tracking
Darkfield™ Laser Sensor tracks flawlessly virtually anywhere, even on glass* and high-gloss surfaces.
Today, you use your mouse in more places than ever before, and we take that into consideration. Mouse on almost any surface with our advanced optics and tracking capabilities.
Laser Optics
Laser tracking is known for precision. This accuracy is achieved by angling the laser light to capture specular reflection, which illuminates greater surface contrasts.
Stronger light source and more efficient sensor placement typically make laser mice superior to standard optical mice, especially for the variety of surfaces on which it tracks.
Advanced Optics
Logitech borrowed a page from laser optics technology when creating our advanced LED optics. By angling the LED and repositioning the sensor, Advanced Optical Tracking processes more surface contrast and responds like a laser mouse.
Darkfield Technology
Both optical and traditional laser mice use irregularities on the surface to track the direction and speed of the mouse movements. For this reason, traditional mice do not perform well on shiny surfaces. This is where Darkfield Laser Tracking comes in. Darkfield uses the smallest possible detail to create a micro-road map of the surface so you get better precision on more surfaces, even glass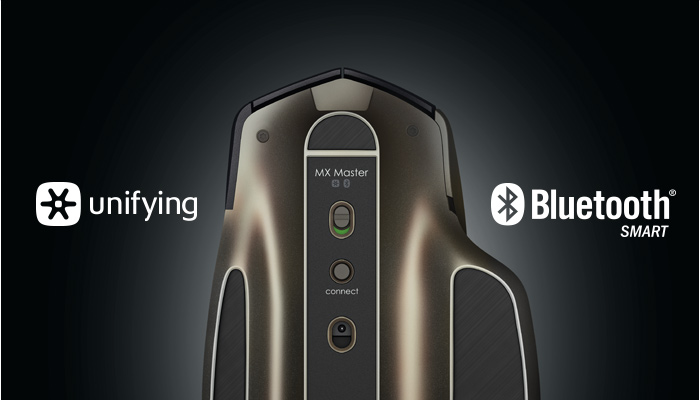 Dual connectivity
Connect this performance mouse via included Logitech Unifying™ Receiver or via Bluetooth Smart wireless technology.
To connect Logitech® MX Master to your Bluetooth Smart Ready computer, you need:


Windows
or
Mac
Windows 8 or later
Mac OS X 10.10 or later

If your computer is not Bluetooth Smart ready, or if you are using an earlier version of Windows or Mac OS, use the Logitech Unifying™ Receiver to connect MX Master.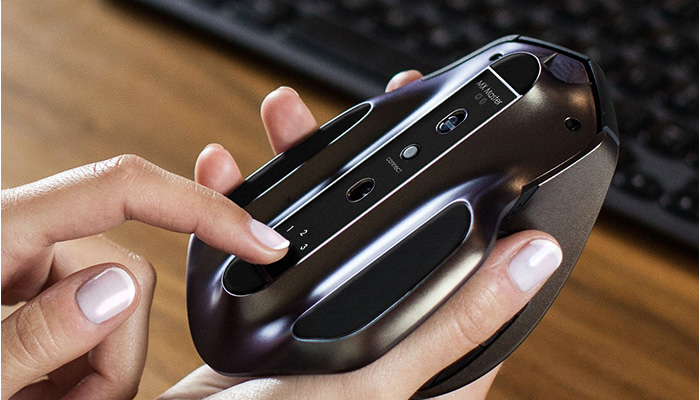 Easy-Switch technology
Pair up to 3 devices and easily switch between them with the touch of a button.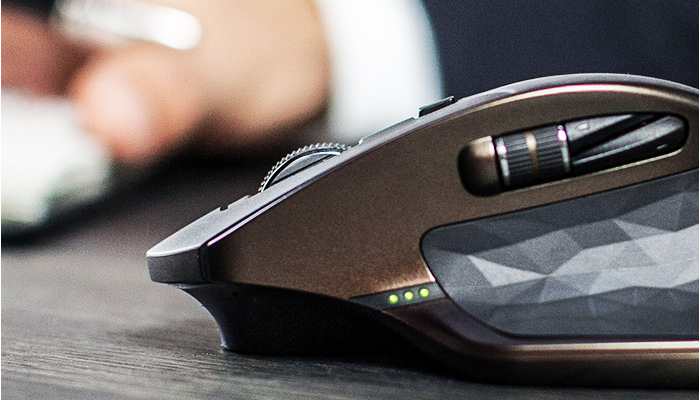 Rechargeable battery
Charge quickly. You can get enough power for a full day of usage in 4 minutes only, with no down time while recharging. A full charge can last up to 40 days*.
When the battery gets low, an indicator light lets you know. Recharging is fast and easy. Just plug MX Master into your computer using the micro-USB charging cable. Continue using your mouse while it charges.
*Based on a 6 hour daily office use. Battery life may vary based on user and computing conditions.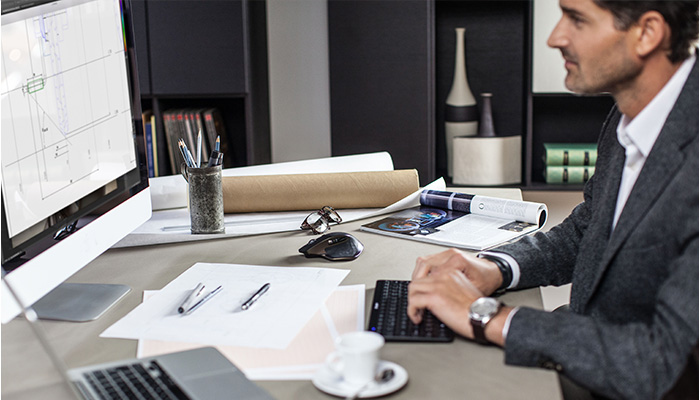 Unlock the possibilities
Install Logitech Options™ software to experience a full range of possibilities of this advanced mouse. Customize buttons and actions to your needs.

Set up and assign tasks to buttons with step-by-step instructions and Setup Guide available to help answer your questions
Technical Specifications
System Requirements
USB port or Bluetooth® Smart ready device
USB Port

Windows® 7
Windows 8 or later
Mac OS® X 10.8 or later

or

Bluetooth Smart


Windows 8 or later
Mac OS X 10.10 or later

Internet connection for software download
Logitech Options software and customization are not available for Windows Vista® and Windows XP
Warranty Information
2-Year Limited Hardware Warranty
Package Contents
Logitech MX Master™ wireless mouse
Logitech Unifying Receiver
Micro-USB cable for recharging
User documentation
Dimensions
Mouse (height x width x depth): 85.7 mm (3.4 in) x 126.0 mm (5.0 in) x 48.4 mm (2.0 in)
Mouse Weight (including battery): 145 g (5.1 oz)

Unifying receiver dimensions: (height x width x depth):

18.4 mm (0.7 in) x 14.4 mm (0.6 in) x 6.6 mm (0.3 in)
Receiver weight: 2 g (0.07 oz)
Technical Specifications
Sensor technology: Darkfield Laser sensor


Nominal value : 1000 dpi
Minimal and maximal value : 400 dpi to 1600 dpi (can be set in increments of 200 dpi)

Battery life: up to 40 days on a single full charge*
*Battery life may vary based on user and computing conditions.
Battery: rechargeable Li-Po (500 mAh) battery
Number of buttons: 5
Scroll wheel: Yes
Gesture button: Yes
Wireless operating distance: 32 ft (10 m)
Wireless technology: Advanced 2.4GHz wireless technology
Images are illustrative and may vary from actual product. Some features require software installation.
Последна актуализация на цената: 2018-04-25 15:15:02